Water Separator Filters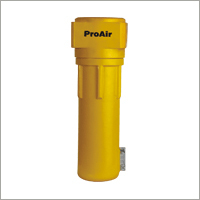 Water Separator Filters
Product Description
Water Separator
MODEL - WX For Compressed Air/Gas Systems
Sizes: 6 mm to 75 mm (G1/4" to G3")
Features :
High Efficiency - Up to 99%
Die cast range upto G3
Fabricated Housing Range
Least Pressure drop (25 mbar - 65 mbar)
Least possible maintenance
Liquid droplets are forced out of the air stream as the air is caused to spin or change direction. Separators remove heavy liquid loads and are effective on larger water droplets. they are however, not effective on sub-micronic oil aerosols.
Typical application include water separating down stream of after coolers and air receivers.

Contact Us
B No. 28,30, Navketan Industrial Estate, Mahakali Caves Road, Andheri East, Mumbai, Maharashtra, 400093, India
Phone :+918071858948783